Creating a Bird Garden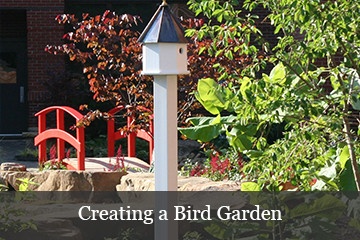 A backyard habitat for birds involves little more than an understanding of how birds use natural resources. Common backyard birds look for food, shelter, and water, and the more of each that is available, the more species of birds will be attracted to your yard.
Bird Houses Offer Shelter

While bushes are beneficial in providing shelter from predators, bird houses need to be provided for seclusion and cover.

Shop Bird Houses


Offer Food with Bird Feeders

Backyard birds need food year round to survive, and bird feeders can be set up almost anywhere.

Shop Bird Feeders


Climbing Flowers on Vinyl Arbors

Place high grade PVC arbors near your flower beds to encourage the growth of climbing flowers, which attract all types of birds.

Shop Vinyl Arbors


Highlight with a Sundial

Place a sundial clock near bushes or trees to tell time in the garden. Garden sundials highlight the landscape.

Shop Garden Sundials


Reflect with Gazing Balls

Gazing balls offer peace and reflection for gardeners and birds, so place near a bird bath to attract attention.

Shop Gazing Balls


Posts, Pedestals and Brackets

Hang bird houses with decorative hangers or mount on posts and pedestals. Brackets also mount bird houses.

Shop for Bird House Pedestals and Posts

Bird baths are beneficial to birds and should be placed on the ground or 2-3' above ground
Allow old leaves to pile under bushes or near trees, giving birds another source for food through the insects there
Plant bushes to offer birds natural shelter from predators and items with which to make nests
With the rapid urbanization of America, many of the birds' natural habitats are being removed, and there are less resources available for survival. Many resources are available to help educate the public on bird feeding, and organizations such as Project Feederwatch are committed to learning more about birds and their lifestyle patterns. We also offer additional resources for How to Choose Birdfeeders.