Gazing Ball Mystique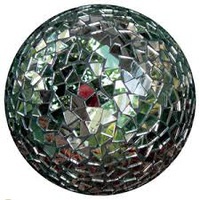 Gazing Balls have a rich and colorful history in garden decor and accents. Gazing Balls are often called Gazing Globes, Garden Balls, and Garden Globes. In historical times they were Witch Balls, Victorian Balls, Butler Balls and Globes of Happiness. Gazing balls have had a life of ups and downs, enjoying periods of tremendous popularity followed by years of abandon.
Having roots from as far back as ancient Venice circa 13th century, garden globes have enjoyed many designs, artistic attentions, superstitions, applications, and admirers. It seems evident that only a highly sought after accent piece could be spun with so many names, to justify reasons for displaying the globes. Gazing balls can likewise be displayed in any number of places. Most commonly they are placed on pedestal bases, but they are also found hung from trees as lawn ornaments, placed on the ground and in flower beds, floating in ponds and in fountains, and performing many balancing acts with stages ranging from nearly flat tabletop surfaces to tall poles.
Early gazing balls were blown glass globes, but today they are available not only in the traditional glass, but also mirrored stainless steel, mosaic patterns, every color imaginable, glow in the dark, antique and flat rust finishes, ceramic, copper, and more. Mirrored gazing balls allow a gardener to showcase their beautiful landscapes, and they add depth to otherwise flat lawns. Gazing globes draw attention and bring visitors close in admiration and interest. As popular as gazing balls are, they still offer a visual treat not common to most on lookers.
Historic uses of gazing balls not only included highlighting gardens and flowers, but also served for practical and other applications. The term Butlers Ball was derived from their use by servants to be able to monitor the dining room and sitting rooms to see if someone was in need of drinks or assistance. The mirrored balls kept the servants from standing in a location where they could be seen, but still allowed them to watch without directly staring. Victorians made use of the mirror globes to spy on their daughters as their suitors brought them home, without having to be obvious in their supervision. Victorians could see through the reflection of the gazing ball whether their daughters and their suitors were behaving properly as they bid good bye. Today's youngsters would be no more aware of the use of the mirror ball on the door step as our ancestors were, so perhaps you may want to give this use a shot once your young ones reach dating age.
Witch ball refers to the superstitious belief that gazing balls could ward off evil spirits and witches. Witches were believed to be so enraptured by their own beauty that they would become stuck at the garden globe, unable to tear themselves away. Others believed that witches could not stand to see their reflection, so would avoid the gazing ball at all costs. Both versions of the usefulness of the witch ball included leaving the ball at the entrance to the home, keeping everything within protected. With the removal of bad luck and evil, good luck and prosperity was believed to take its place, bringing great fortune to anyone who displayed a globe. Globes in the garden brought abundance of crop and good harvests.
Gazing balls experienced a pivotal period in the 19th century when King Ludwig II of Bavaria, aka Mad King Ludwig, adorned his Herrenchiemsee palace with gazing balls of all sizes and uses, from lawn globes to hanging globes and floating globes. This fantasy castle was designed to be a full scale replica of France's Palace of Versailles, but Ludwig died before 50 of the 70 rooms were completed. Gazing balls have been a fixture in European gardens ever since.
Gazing balls continue to delight people throughout the world, and can be mixed and matched, placed in thick shrubs to break up the landscape, used to reflect the garden and skies, or even brought indoors. Standard sizes range from 4" to 12", although they can be custom made larger than 12". Pedestals and wire bases of different height are available to display garden globes, and many globes can float in water or simply be placed on the ground for color. Whatever the use, the pleasure and enjoyments that stems from garden globes is unparalleled, causing this Italian-inspired garden accent to remain popular for almost eight centuries. We offer gazing globes in a variety of styles and sizes, with a great selection of pedestal bases that can often double for use with Sundials.