Unlike traditional landscape lighting that outlines borders with single lights sticking up above the ground, rope light can blend seamlessly with the natural surroundings and create continuous illuminated borders, which are stunning with landscape contours and pathways. They're also a beloved option for people who want to make unique, creative outdoor light displays.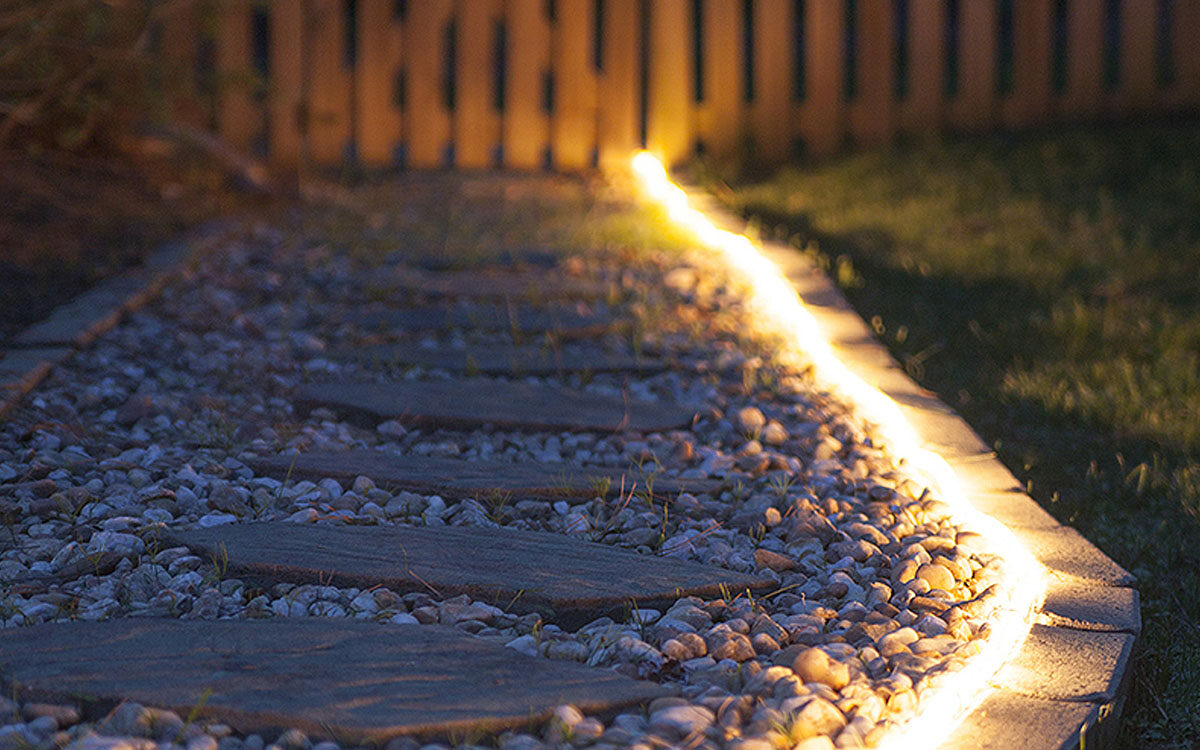 Our love for rope light is rooted in its versatility. These flexible tube lights are weather resistant, can be customized to fit just about any outdoor area, and are easy to install. You can do some amazing things indoors with rope light; but take it outside, and your landscapes, decks, and walkways can be completely transformed in a surprisingly short amount of time.
Which Rope Light is Right for Your Project?
Choose rope light spools for large outdoor projects.
LED rope light spools are best for a wide range of lighting projects as they allow for plenty of length to be covered and can be spliced for complete customization. Their cuttability allows for versatility and small space applications. Plus, any leftover can be used in other lighting projects!
Rope light Color & Unique Blending
Many colors are available, which makes creative lighting ideas come to life. But for the majority of outdoor projects, white rope light is the most popular option because the clear tubing blends into the surroundings when not in use.
Tips for Working With Rope Light
Rope light spools like the 150' spool from Wintergreen Lighting include accessories to make installation easier: 3 power cords & 3 power cord splice pins, 3 splice connectors and 6 splice pins, 3 end caps, 50 mounting clips, 1 tube of sealant

To prevent light runs that are too short or too long, we suggest taking measurements of the desired install location and leaving your rope light on the spool until you have it securely in place using one of the methods below. Then, once your light is exactly as you want it, you can cut it from the spool and connect your power cord.

While LED rope light emits less heat than incandescent rope light, neither should ever be olugged in while still wrapped on the spool because doing so will damage the lights. Rope light should only be lit up once it is laid out.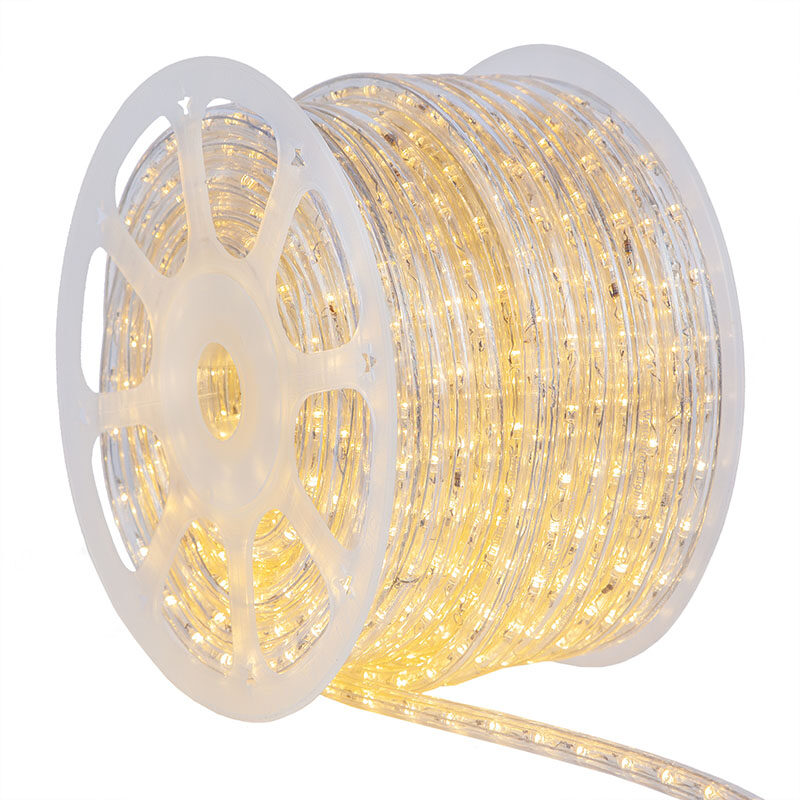 Rope light spools can be cut using either sharp scissors or a knife. Before cutting, measure the area where you plan to install the rope light and then cut the tube at the corresponding length with the nearest cutting mark. The mark that indicates a safe spot for cutting rope light will typically look like a small pair of scissors or a dashed line. This is the only place that LED or incandescent rope light should be cut. The distance between the cut marks will vary depending on the rope light so it's important to measure your space and choose the cut mark closest to that measurement. Always make sure the rope light is not connected to power before cutting.
How to Connect Sections of Rope Light
When installing rope light for custom projects, you may need to use connectors to join two or more pieces of rope light together. Knowing how to use connectors is especially helpful if a section of rope light stops working and needs to be removed. If you plan to join multiple rope lights together, keep in mind that the pieces of rope light being connected must be the same in voltage and wire count. The connectors you use will also need to match the rope light wire count and diameter. As a general guide when using any connector, you will want to line up the offset holes of the rope light with the offset prongs of the connector. Then, firmly connect the pieces together. The video below will introduce you to the different types of rope light connectors and how to use them.
After you have cut and connected your rope light to fit your space or project, you will need to add a power connector to one end. Then, an end cap can be used to safely cover the opposite end of the rope light ensuring a secure, water tight connection.
Wrap Rope Light Around Posts, Poles, and Trees
What You'll Need:
Power Cord (3 are included with spools)
Zip ties, clips, fasteners, or adhesive
End caps (3 are included with spools)
How to Wrap Rope Light on Poles & Trees:
To wrap trees or posts with rope light, start at the highest or furthest point and wrap your desired length and look.

Once that length is determined you can connect a power plug to light it up. The rope light end cap and power plug accessories can be sealed using the included sealer or any outdoor silicon sealer.

The more twists, turns, and angles your display has, the more fastening accessories you may need to achieve the look you want. Step back and make necessary adjustments as you go to ensure your display is as you want it.
Highlight Walkways & Landscapes With Rope Light
What You'll Need:
Power Cord (3 are included with spools)
Garden Staples or U Stakes to keep tubing in place
End caps (3 are included with spools)
How to Illuminate Walkways & Landscapes Using Rope Light:
This will guarantee you have the exact amount of rope light you need for the area you are lighting. To start, unravel a length of rope light from the spool and place it down in your desired position along a walkway or other landscape features. Then, make adjustments as needed until you have the tubing positioned where you want it. Next, insert the first garden staple at the farthest end opposite the spool. If you're lighting a straight path you can space the staples further apart, however, if the path is curved, you may want to use extra anchors to keep the tubing securely in place. When the rope light is securely held in place, cut it from the spool and add a power cord to one end and an end cap to the other. Then seal the end cap and plug connectors to prevent moisture from getting in.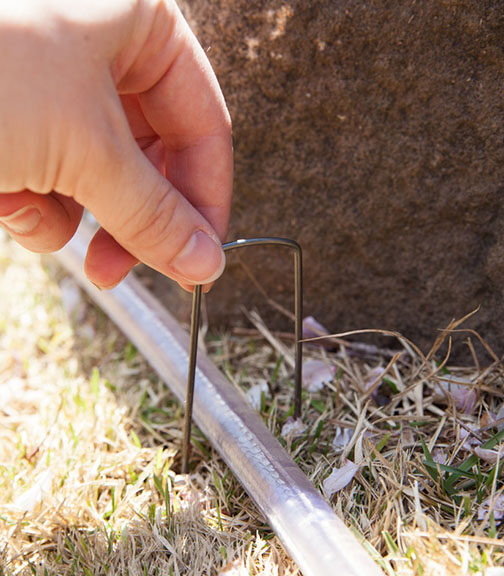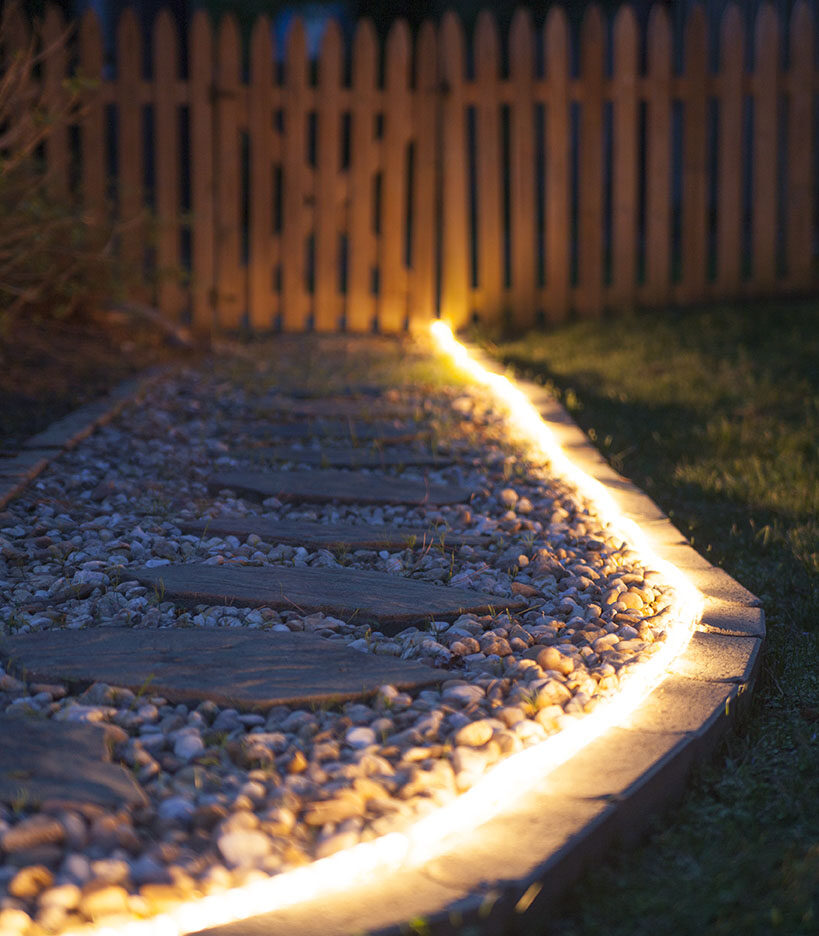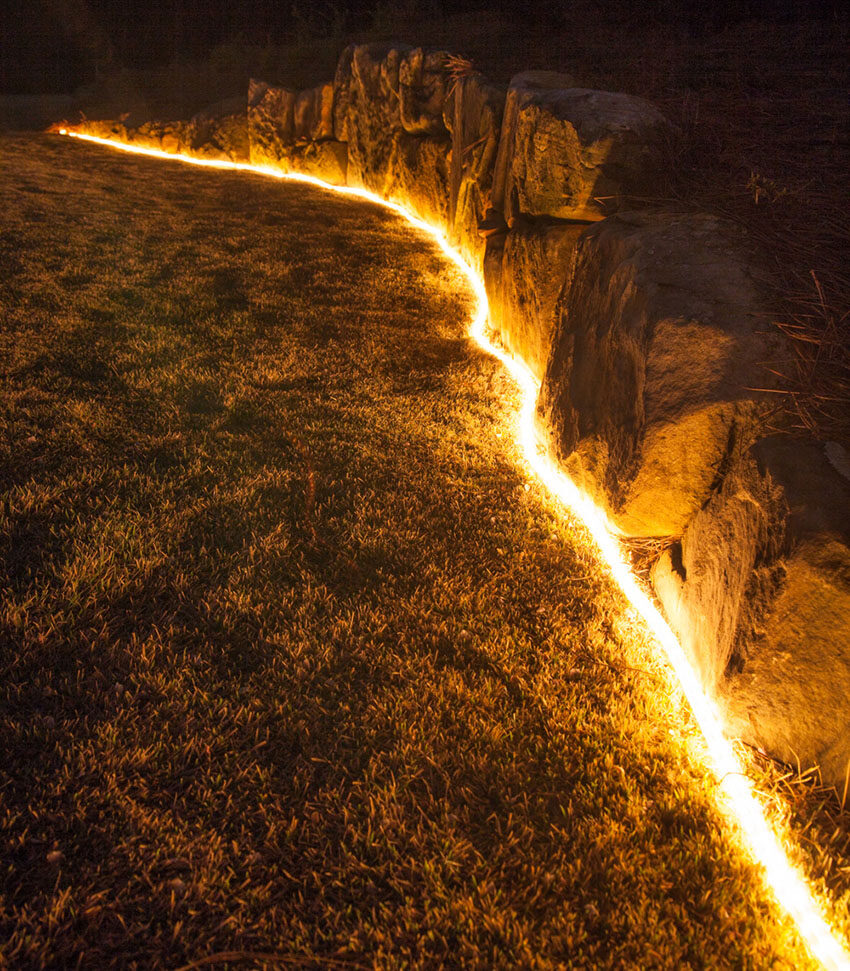 Install Rope Light Across a Deck
What You'll Need:
Power Cord (3 are included with spools)
Screw in mounting clips (50 are included with spools)
End caps (3 are included with spools)
Phillips head screwdriver
How to Install Rope Light on a Deck:
Adding rope light under deck railings is incredibly easy! 150 foot rope light spools and 18ft. rope light kits come with screw-in mounting clips which are perfect for this application. These clips hide beneath railings and along trim. You can measure your deck and use a pencil or chalk to mark the locations where you plan to place your clips or simply use the deck railings as markers and place a clip at each rail or every other rail. When the clips are all installed, simply slide the rope light in place. If you're working with a rope light spool, we recommend waiting to cut the rope light from the spool until you have the tubing in place on your deck exactly how you want it. Then attach a power cord to one end and an end cap to the other. Then seal the end cap to prevent moisture intrusion. For smaller decks, you may be able to use one or two 18 foot rope light kits for this project. These kits already have a power cord and end cap in place which makes installation even easier, but you might end up with an unlit section or excess rope light. If you want the rope light to exactly fit the measurements of your deck, using a spool is the best option.
Rope light accessories provide you with supportive material for a wide variety of applications. From outdoor landscaping and events to indoor accent and ambient lighting, rope light accessories give you the freedom to create your own personalized lighting displays.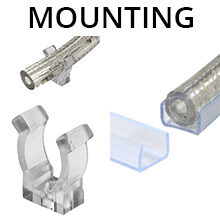 Affix rope light to a variety of indoor and outdoor surfaces using mounting clips and channel tracks.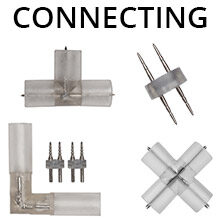 Create personalized designs and displays by joining multiple rope light sections together with connectors.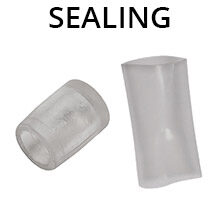 Rope light sealants and shrink wrap tubes create water-tight connections between multiple rope light runs and at cut ends.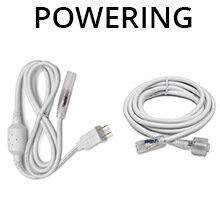 Run power to your rope light projects with power cords and extension cables available in multiple sizes.