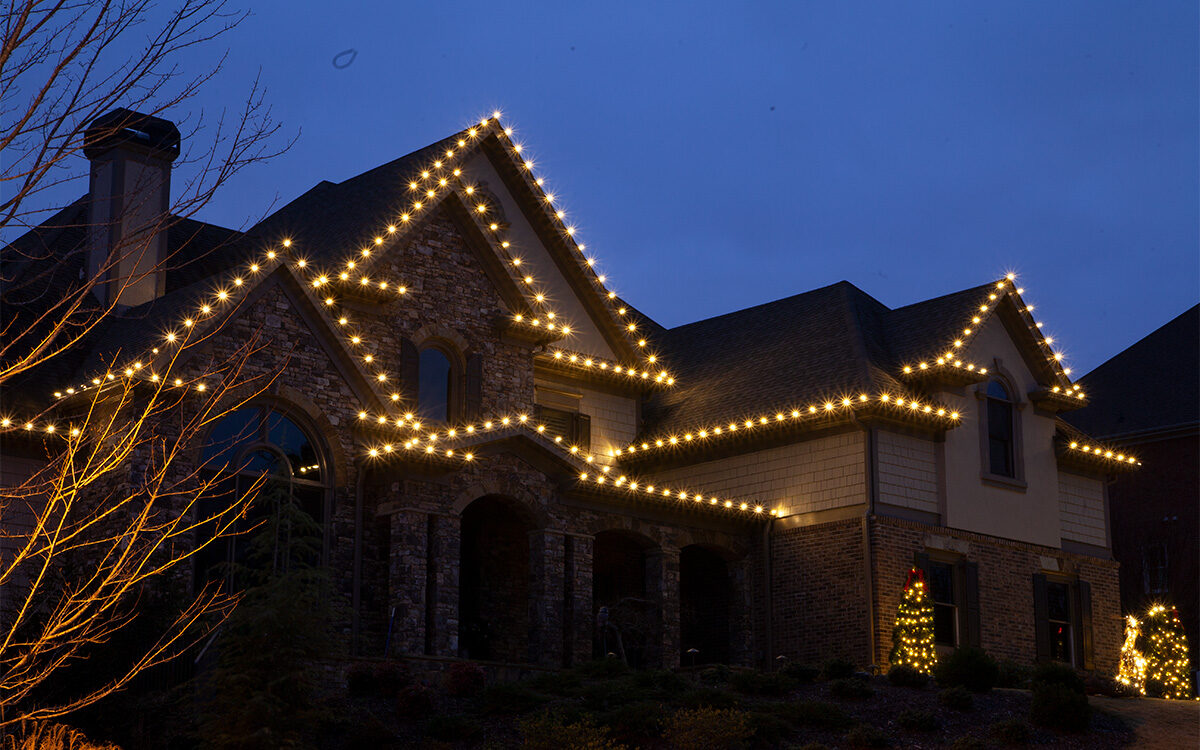 There are a lot of options for how to decorate a roof line with Christmas lights! The most popular Christmas roof lights are C7 & C9 Light Bulbs & Icicle String Lights. These light types can be installed on a roof using Christmas light clips, or you can combine light types, like C9 & Icicle lights, together to create a unique Christmas roof lights display.
C7 & C9 Christmas Lights - The most classic Christmas lights, C7 & C9 bulbs are popular along roof lines due to their larger size, ability to create perfect outlines, and greater overall presence in comparison with other light types when viewed from a distance. C7 light bulbs are smaller than C9, and work best on compact homes and homes that are set close to the road. C9 bulbs are larger and can be seen from great distances, making them one of the most popular options for most roof lighting projects.
Icicle Lights - Beloved for their elegant display, icicle lights are a popular choice for roof awnings, overhangs, peaks and windows. Traditional white icicle lights are the most popular, however you can also find classic color combinations such as red & white icicle lights or more whimisical pairings, like blue and green icicle lights.
Cascade & Falling Rain Lights - The unique dripping icicle effect created by these specialty bulbs is perfect for creating eye catching Christmas roof light displays. Cascading light tubes and falling icicles fit standard C9 and C7 sockets.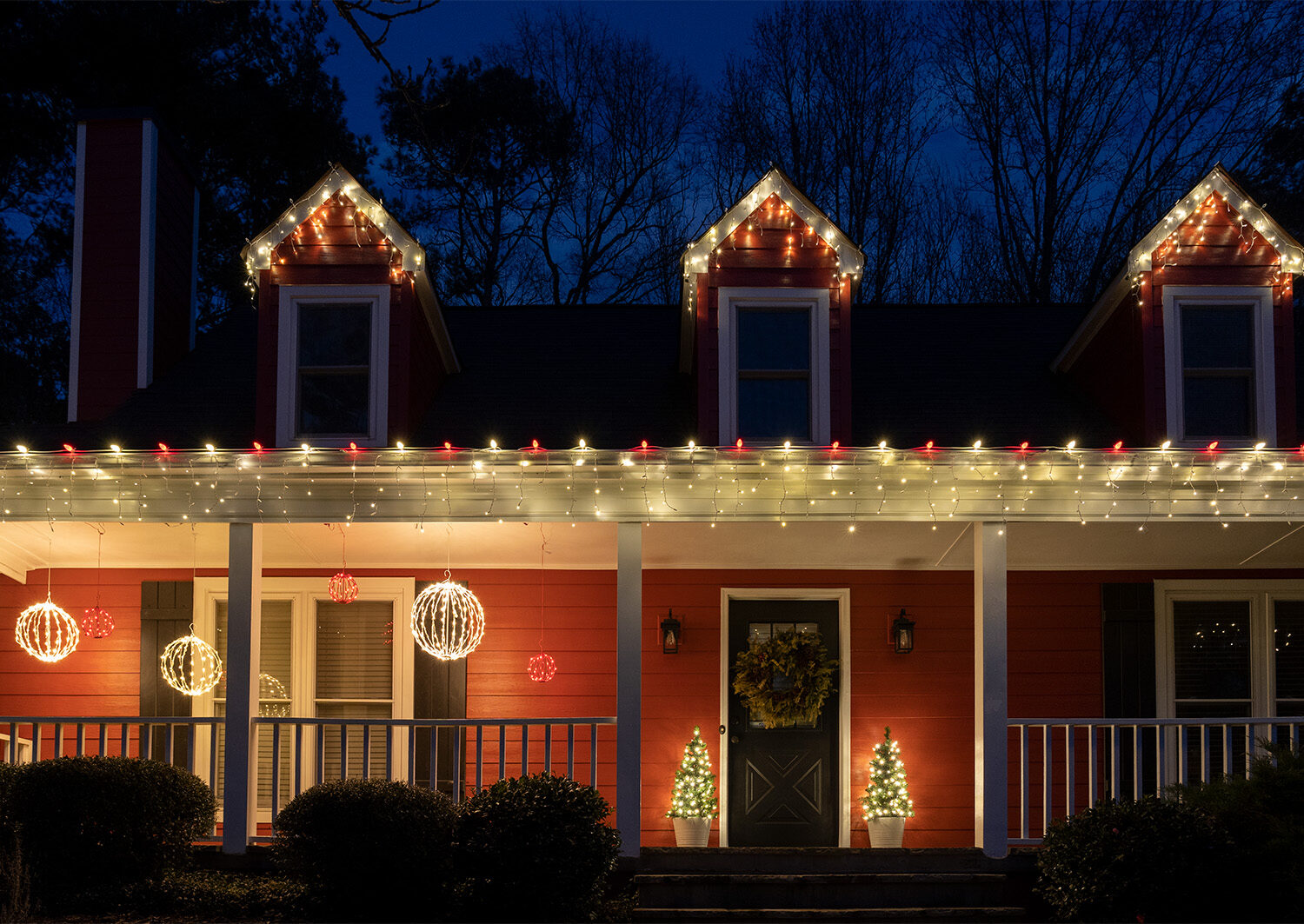 Christmas Lights For Wrapping Outdoor Trees
Some of the most popular outdoor Christmas decorations are light wrapped trees. There are two options for how to wrap a tree with lights: string lights or trunk wrap lights.
Wrapping trees with mini string lights allows you to completely customize the final look. However, wrappig trees with string lights can be expensive and time consuming depending on the number of trees you plan to light. If you're trying to stay within a tight budget, are short on time, or want your tree lights to look completely uniform, trunk wrap lights could be a better solution for your outdoor Christmas decorating project.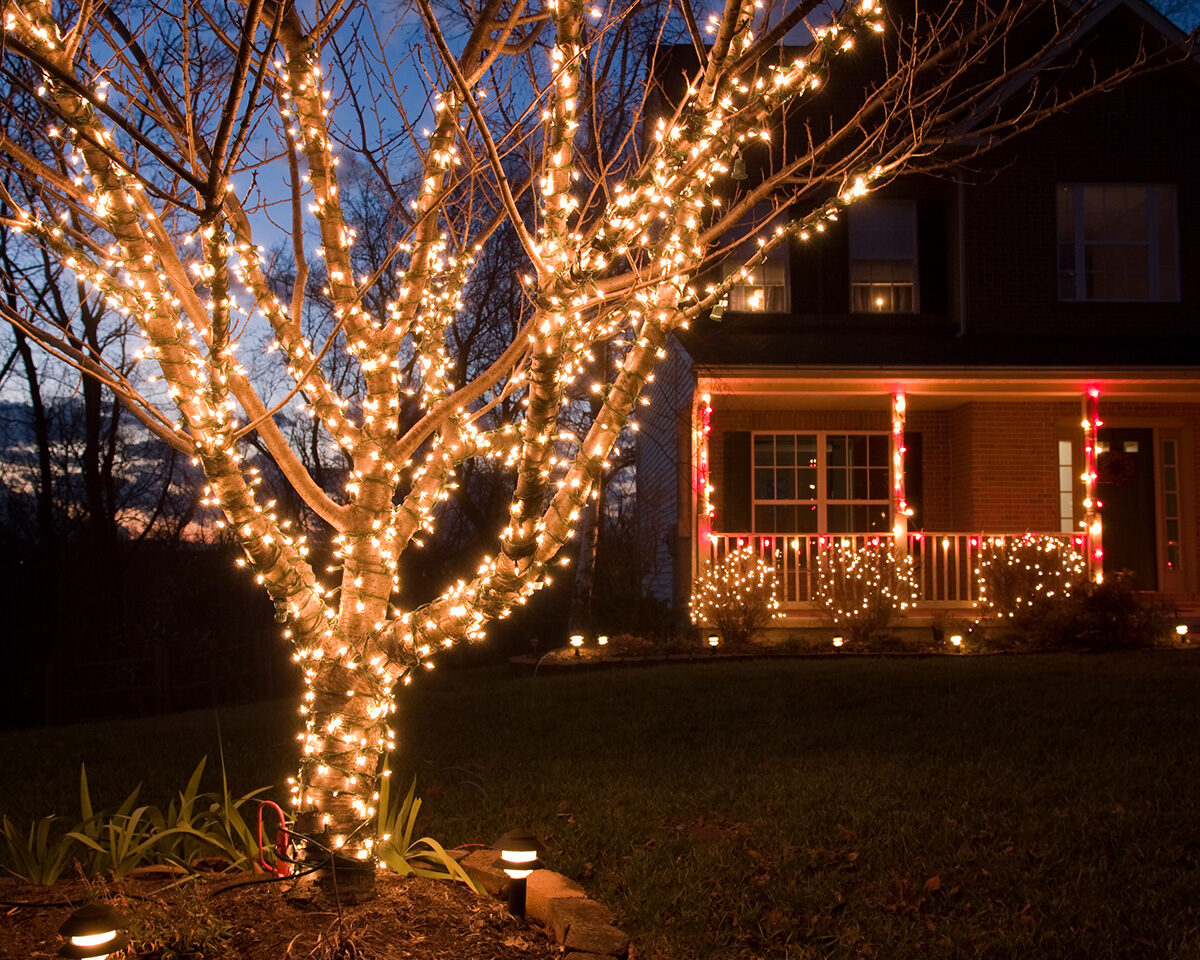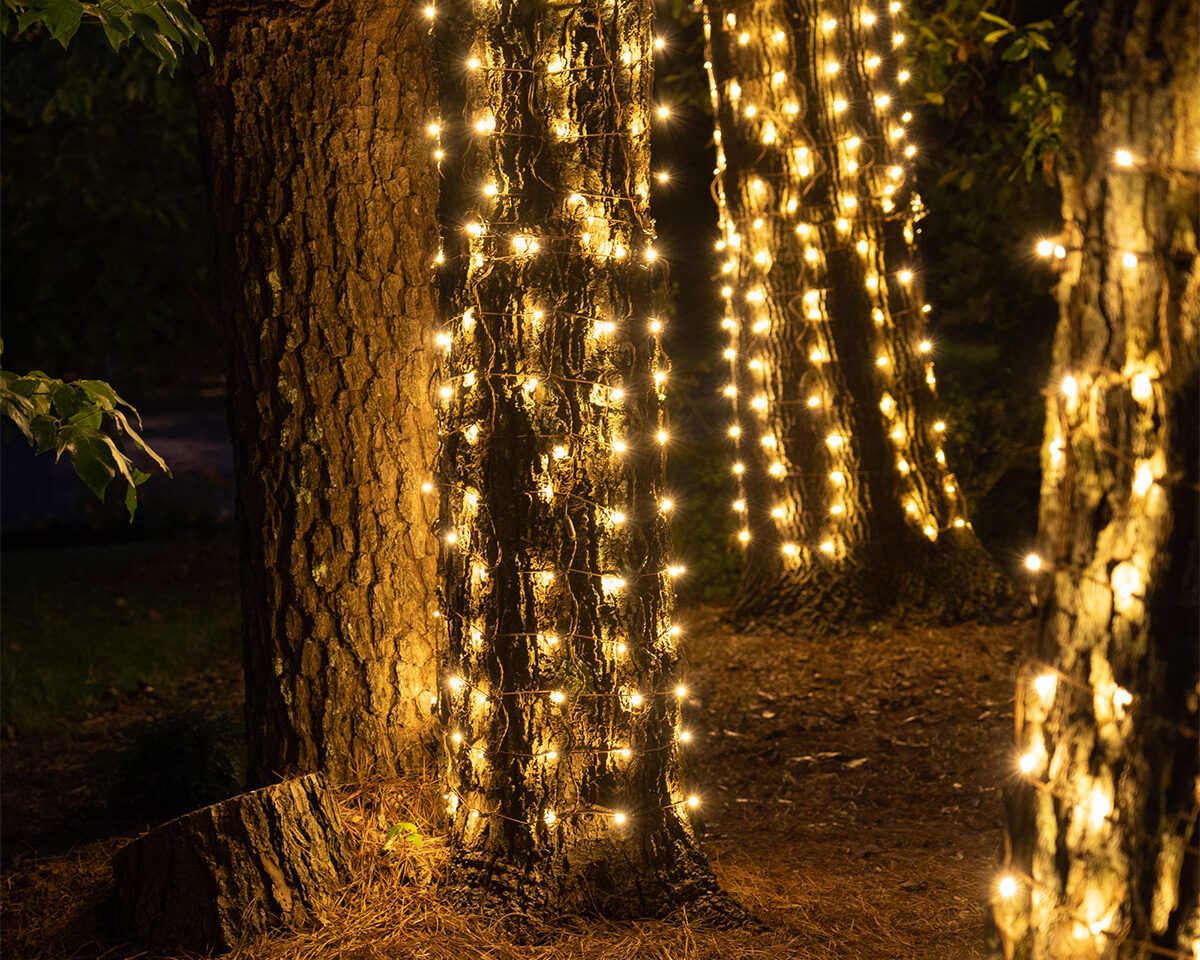 How to Wrap Outdoor Trees With String Lights
Create a ball with the lights or buy tree lights that are already wound into a ball to make passing them around the trunk and in between branches easier.

Connect the male plug with a power source at the base of the tree.

Wrap up the base of the tree and around the branches connecting the female end of the last light string to the male end of each new light string as you go.

For a clean look when wrapping multiple branches, leave extra space as you wrap the light strings up the length of the branch, then wrap back down filling in the gaps. When you reach the base of a branch, run the light strings over to the next branch and repeat this process.

Plug your light strings in and enjoy the ambiance!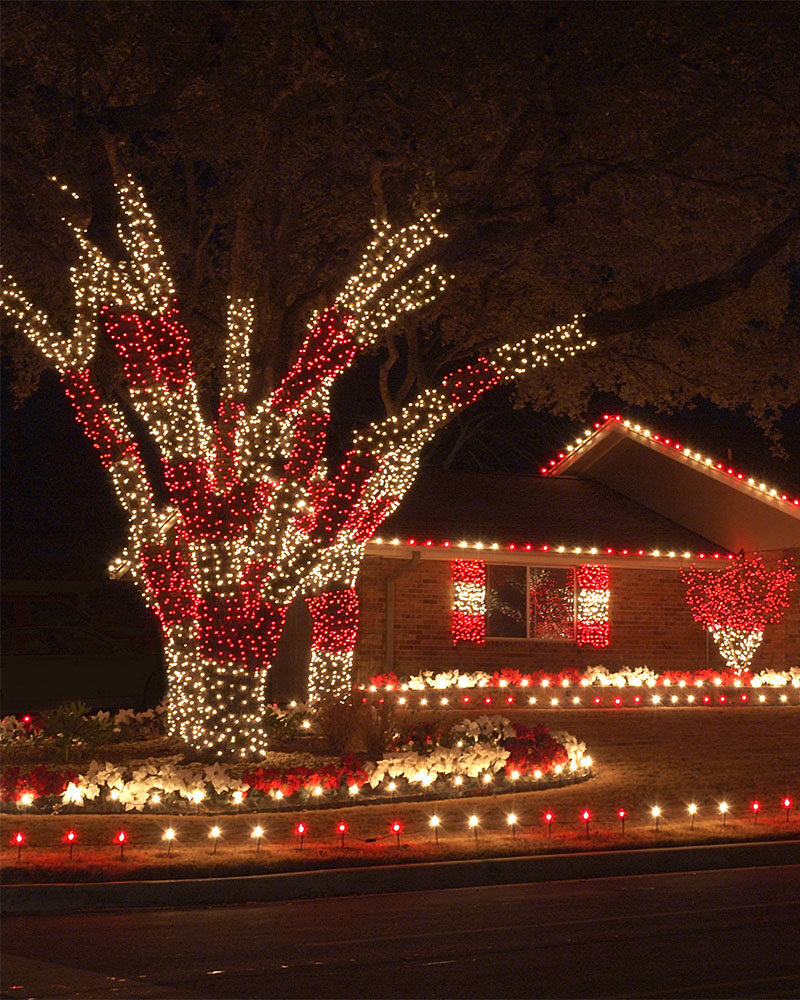 StretchNet® Pro Trunk Wrap Lights
A faster & more uniform alternative to wrapping trees with string lights is StretchNet Pro tree wrap lights . These net lights for trees are designed with a stretchable cord that is woven into the net, making them expandable for wrapping small and large trunks. Simple loop clasps attach the ends of the net around the tree, so installation is incredibly simple.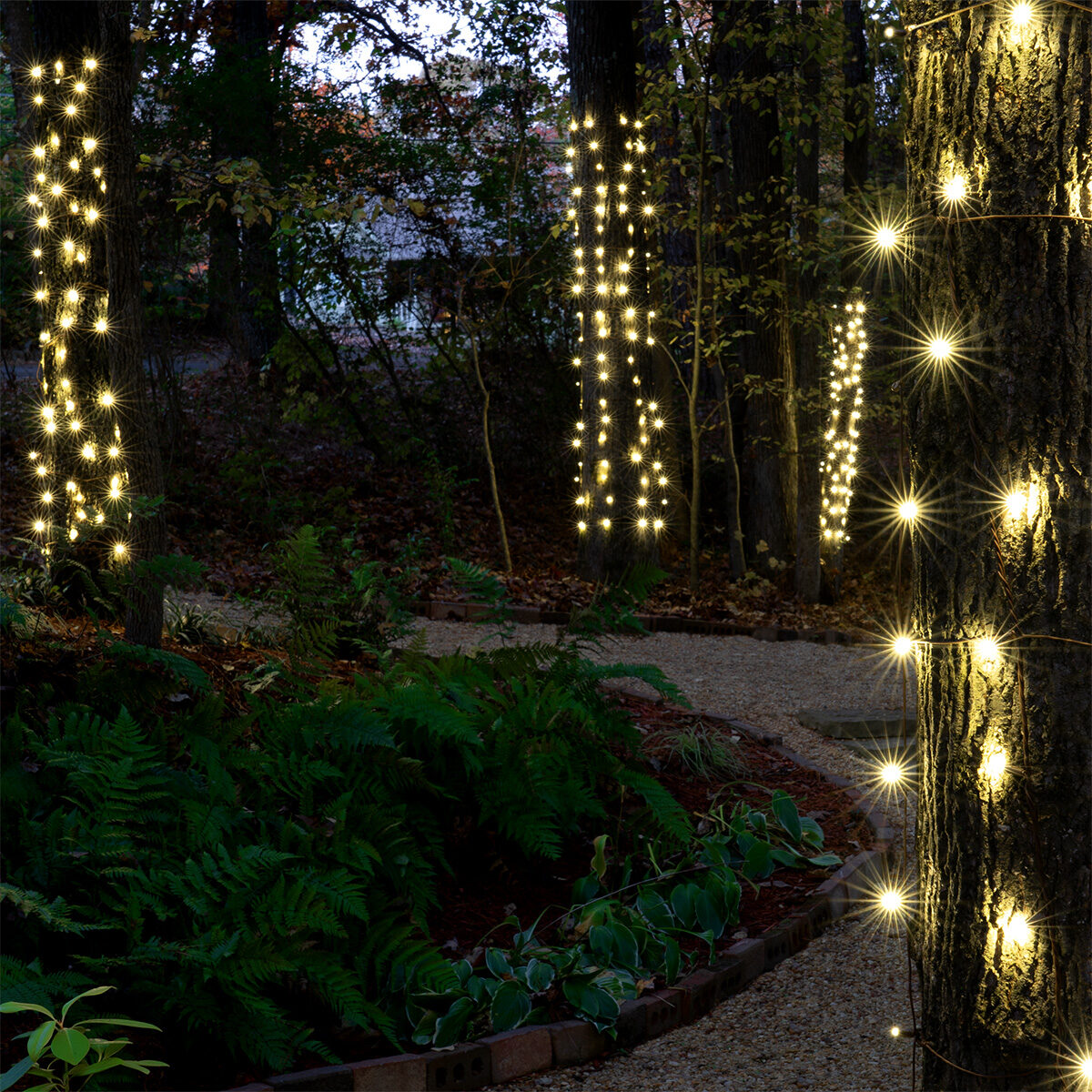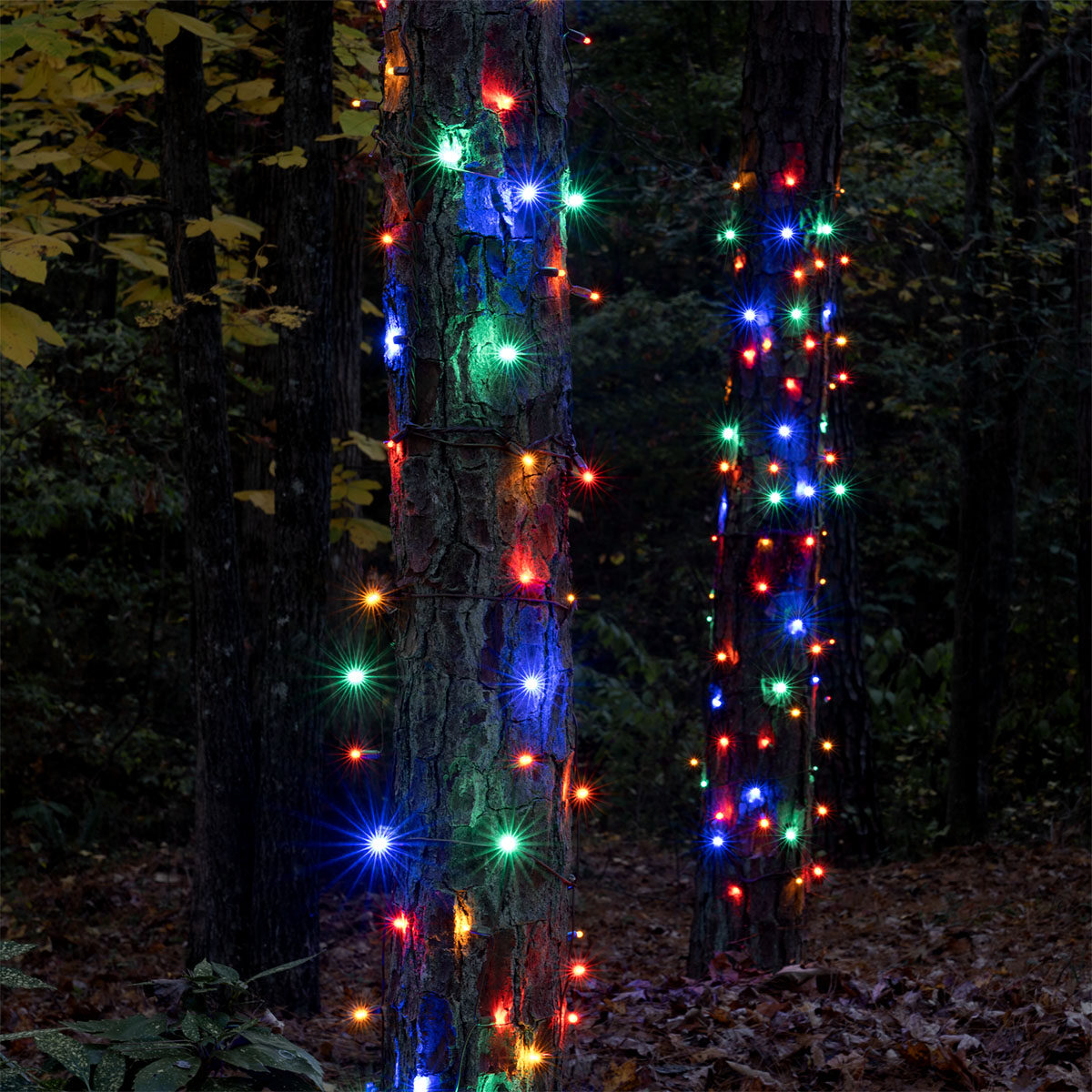 We mentioned earlier in this post that C7 & C9 Christmas lights are extremely popular for outlining roofs during the holiday season. These bulb sizes are also commonly placed on stakes and used as pathway lights. Outlining driveways, walkways, and even the entire perimeter of your yard with Christmas pathway lights can be eye-catching enough that you could skip the roof lights all together (no ladders needed, yay!), and still achieve a highly impactful display.
C7 Christmas Pathway Lights - If your driveway is short and your house sits close to the road, C7 light bulbs will provide plenty of illumination without being overwhelming.
C9 Christmas Pathway Lights - Use this bulb size for large yards, landscape lighting in areas set far off from the road, and long driveways.
Globe Pathway Lights - For a more whimsical, less traditional approach, globe bulbs -- commonly installed as patio lights -- can also be placed on stakes and used as Christmas pathway lights.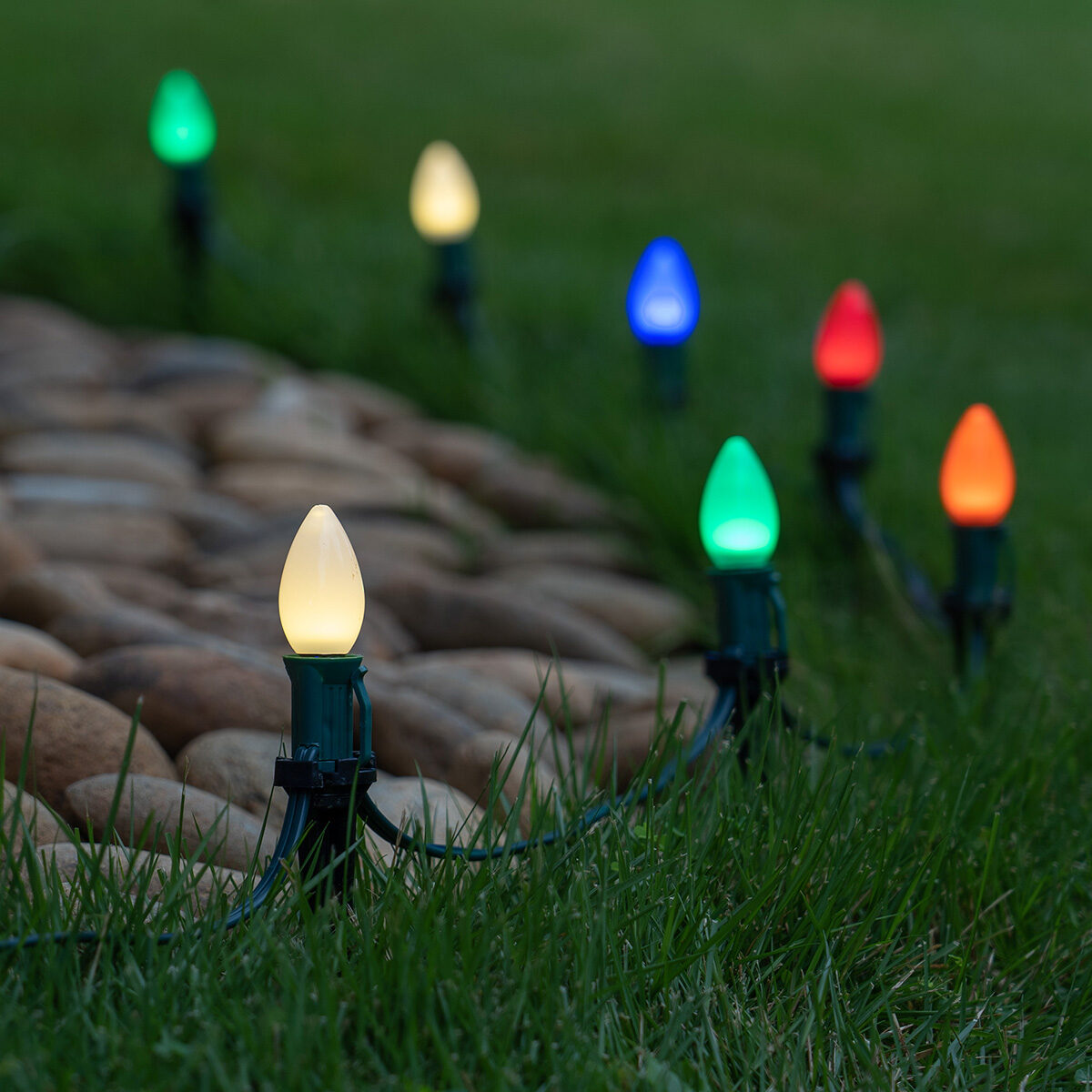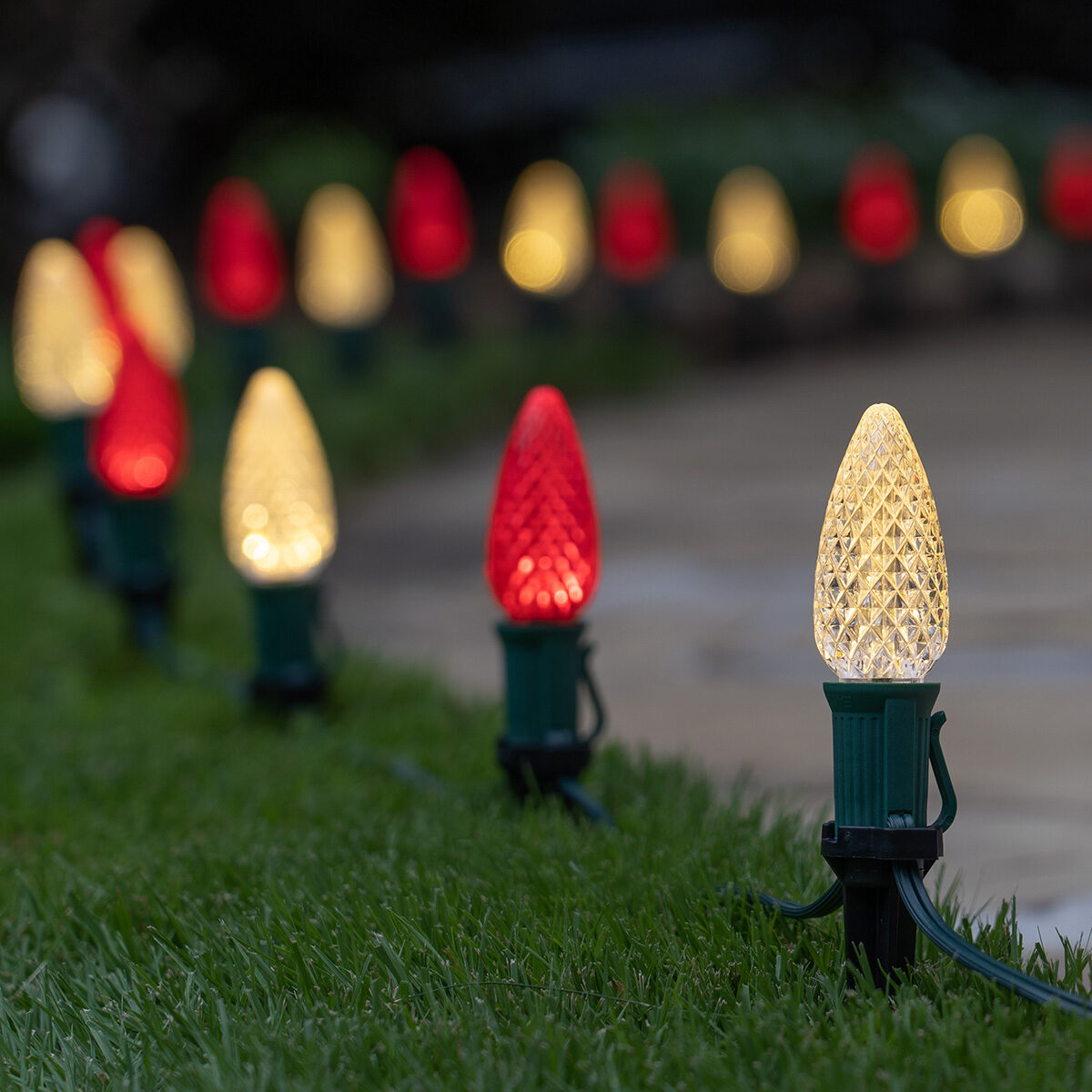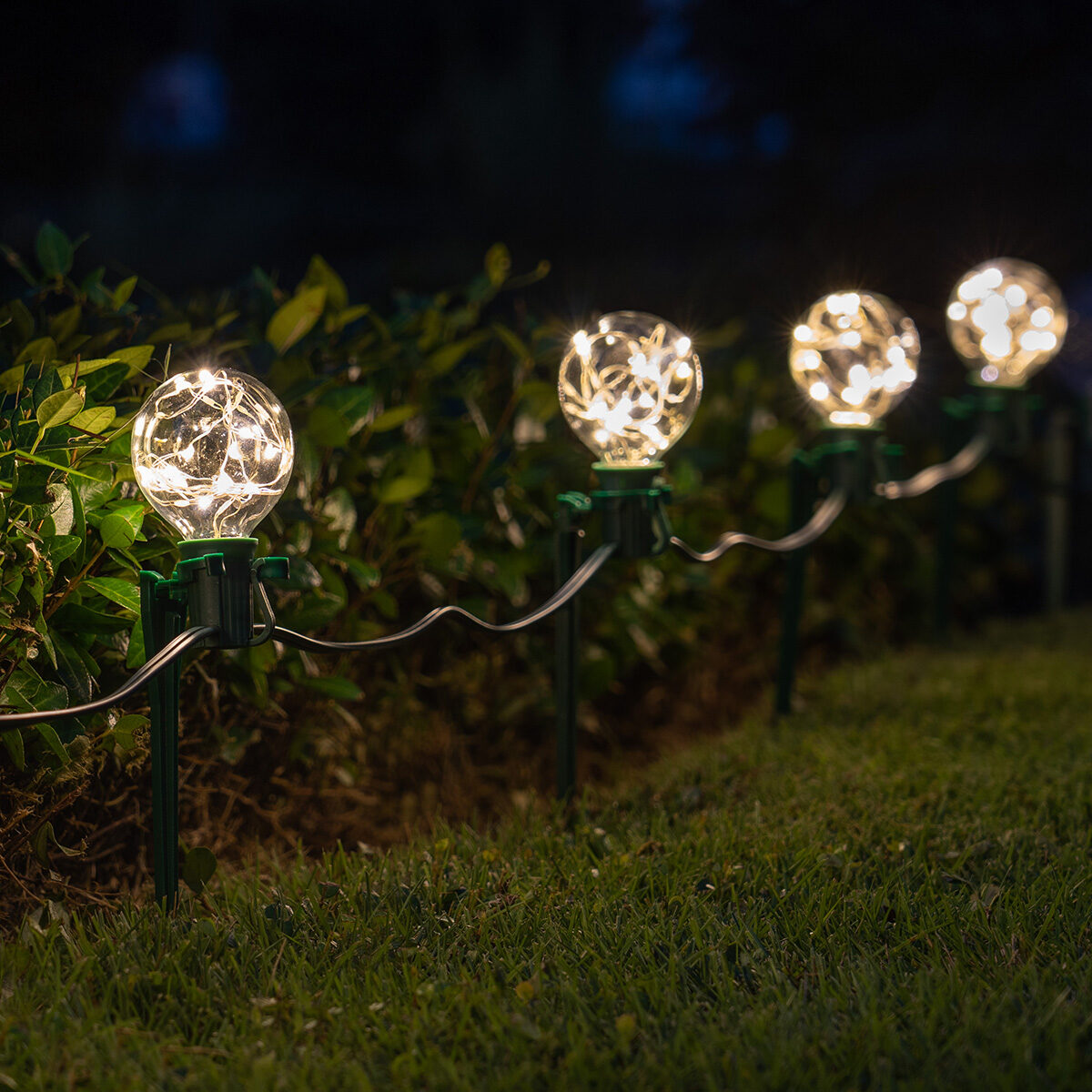 Outdoor Christmas Yard Decorations
There are thousands of ways to decorate your yard from blow up characters to animated lightshow trees, figurines, & more! We've shared a few of our favorite outdoor Christmas decorations for the yard below - many of these work as Christmas porch decorations too!
Christmas light balls are a popular outdoor Christmas decoration, but they're also beautiful to display during any season and for event lighting too! Folding light balls come in a variety of colors and a range of diameters from a small ornament sized 8" to a huge commercial grade 37" sphere. These light balls even fold flat to store easily and with minimal space required! You can hang Christmas light balls from tree branches, along the porch, or simply place them throughout your yard or garden to create an enchanting display.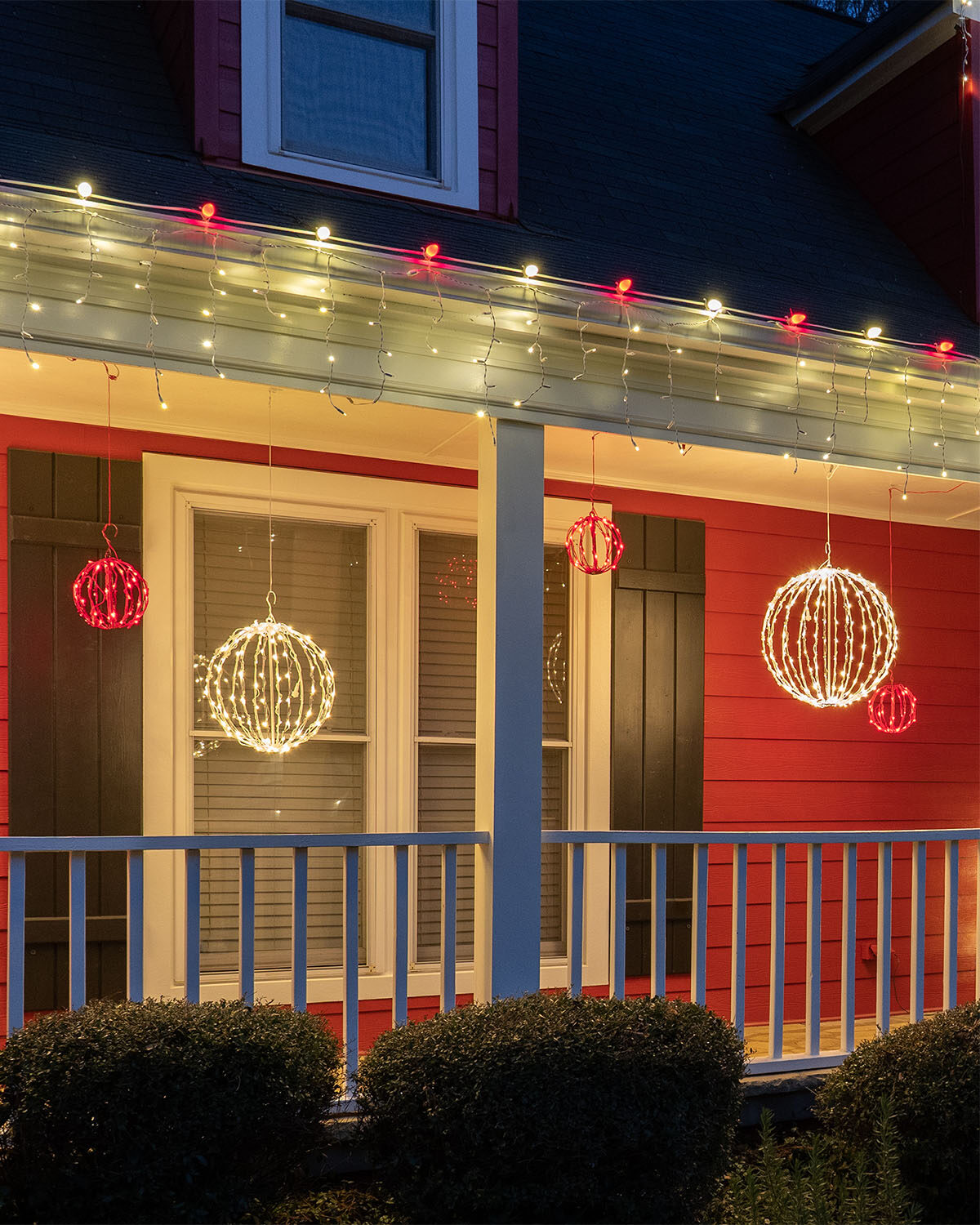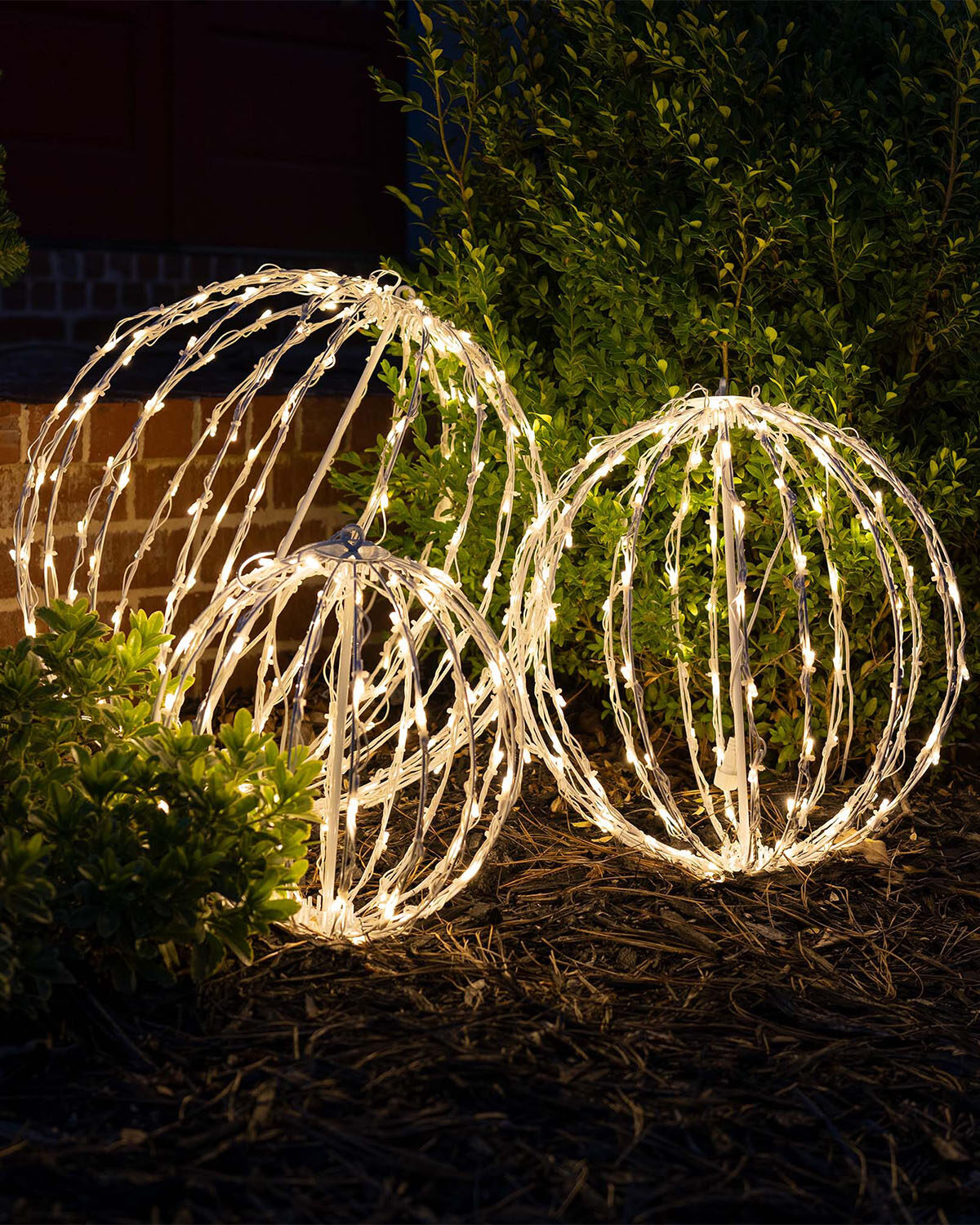 Light Show Christmas Trees
Lightshow outdoor Christmas trees are cone shaped and pre-programmed with a series of light animations. They are great for creating quick yard displays with high impact and look good alone or in groups with other decorations.
Animated outdoor light show trees are easy to assemble and come in multiple colors ranging from 5' tall all the way up to 12' tall.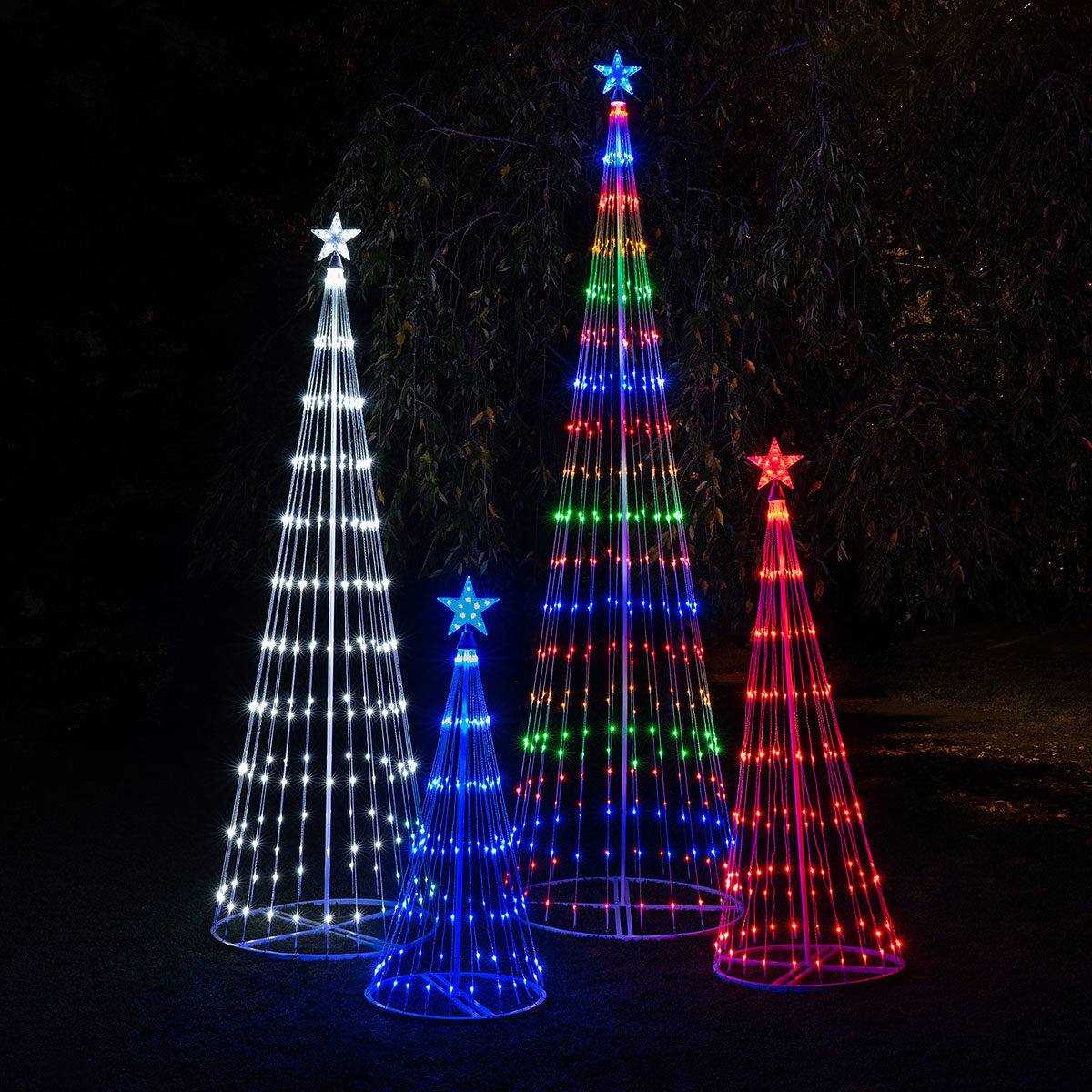 Christmas Snowflake Decorations
Like the real thing, lighted snowflake decorations come in a variety of designs & sizes. You can hang snowflake lights across the porch or from tree branches in the yard. They also look beautiful on the side of a barn or shed, hanging from windows, and attached to fence railings!
Folding Snowflake Christmas Lights - These beautiful snowflakes feature bright LED mini lights set into their sturdy frames which range in size from 20"-36". Folding snowflakes are easy to assemble and when the season is over they store small, saving you so much space!
Rope Light Snowflakes- Snowflake shaped metal frames are wrapped with sturdy incandescent or LED rope light to create a beautiful and long lasting holiday decoration. Rope light snowflake decorations range in size from 12" - 48" and are available in a solid white & blue, as well as popular color combinations.