You can almost feel the warmth of Summer drawing near and you're ready to start preparing your outdoor abode for lazy days and long nights! Inspired by this vision of summer bliss, you grab a few strands of patio string lights and then the worst thing happens, they just don't look right! Or, you can't even hang them because the sizes are all wrong!
Phew...while that is a depressing scene, your patio lighting experience doesn't have to be this way! Just be sure not to fall into these three common patio lights predicaments:
You chose the wrong bulb technology (know your wattage!)
Your light stringer doesn't fit your space...or bulb!
Your light color looks nothing like you planned
Make the Right Choice: Patio Light Bulb Technology
Patio light bulbs are available in a variety of colors and styles, and knowing the difference between the lighting options available is the first step in making the right patio lighting choice for you! For now we will focus on LED and Incandescent bulbs, however bulb finish is also important in enhancing the overall atmosphere of your space, we'll get to this in more detail later!
LED Bulbs: When wattage is a concern, definitely choose LED. Exceptionally vivid and energy efficient, LED bulbs use approximately one tenth of the power a traditional bulb uses. This low power draw allows you to connect multiple strands together without the worry of exceeding string capacity, making them a perfect choice for lighting projects covering long distances. LED bulbs are also encased in an extremely durable acrylic material, and long lasting.
Incandescent Bulbs: These are the traditional light bulbs we grew up with. Incandescent lights emit a soft, tranquil glow to create perfectly cozy ambiance, and the filament is visible in clear and transparent bulbs. When using these lights, larger bulb spacing or shorter lengths of light work best.
Patio Light Bulbs Pro Tip 1: Avoid using incandescent and LED bulbs in the same area. LED bulbs are brighter with vivid hues, which is in stark contrast to the soft light radiating from incandescent bulbs.
Patio Light Bulbs Pro Tip 2: If you aren't ready to make the switch to all LED lights, consider starting with a string of incandescent patio lights. When you're ready to make the switch, you simply change out the bulbs to LEDs and reuse the same strings! Just be sure you get the right bulb size for your string sockets, which brings us to our next common patio lighting mistake!
Understanding Patio Light Bulb Sizes
If you've purchased light strings and bulbs separately in the past and ended up with a bulb whose base doesn't fit into the socket on your stringer, you are not alone and the headache is real! What is an E26 compared to an E17 or a C9? If this is your first time venturing into the wonderful world of patio lights, you might be a bit overwhelmed with so many different colors, string options and light styles to choose from. Let's talk about how to pick the right patio light strings and bulbs to ensure a hassle free patio lighting project:
E26 bases are the standard household size, and often referred to as Medium. The bases and sockets are 26mm wide.
E17 bases are the same as a C9, and often referred to as Intermediate. The bases and sockets are 17mm wide.
E17 bases are the same as C7, and often referred to a Candelabra. The bases and sockets are 17mm wide.
If you don't know which size you currently have, simply hold a ruler up to the base or socket and count millimeters.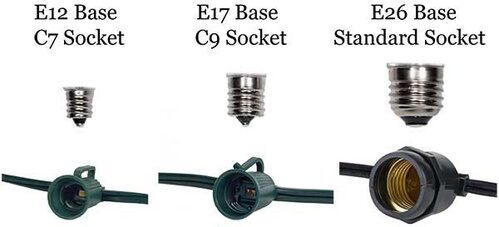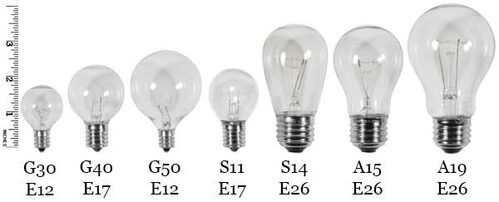 Patio Light Strings Pro Tip 1: If you know what color and style you want and you don't plan on customizing or changing it anytime in the future, then relax, because we've done the work for you! Grab one of our convenient, hang and go patio light kits in the color and style you love and get all the benefit of beautiful patio lighting in no time!
Patio Light Strings Pro Tip 2: Consider socket spacing when planning your design. Larger bulbs have a bigger presence and higher wattage, so wider socket spacing works well across long distances and helps save on power costs! Smaller bulbs, such as 30mm G30 globe lights provide ideal display when spaced closer together, a perfect choice for creating cozy atmosphere in smaller areas.
Patio Light Strings Pro Tip 3: Does your design require a custom tailored look? Use the charts below to decide on your bulb size and then purchase the stringer that matches the socket size.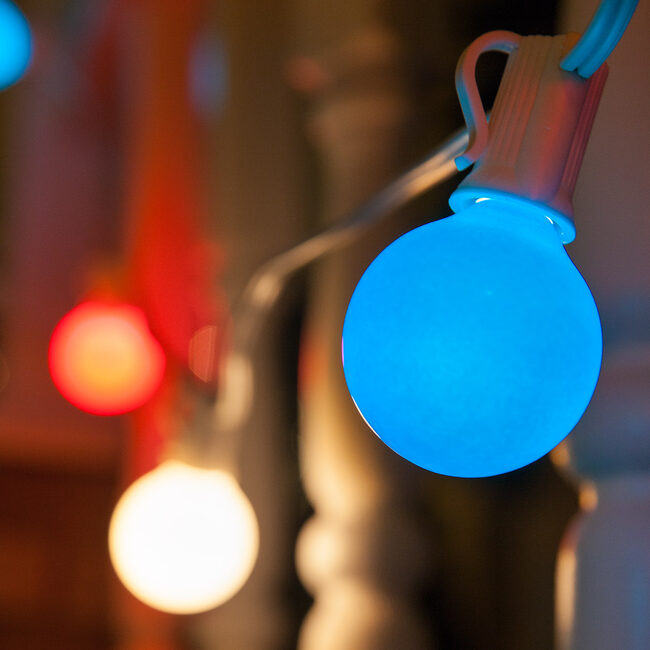 Finish with Color! Know Your Patio Lights Colors
Patio lights are available in three distinct finishes: Transparent, Satin and Frosted/Opaque.
Each finish inspires a different feeling in your light display depending on the atmosphere and the event, so it is an important factor to consider when putting your patio lighting ideas into action.
Satin Finish Patio Lights: For elegant affairs, satin finish bulbs are the essence of opulence and immensely popular. The best part about these bulbs is that we create the painted DIY look for you, so they are ready to go! Here are a few satin finish patio lights ideas to get you started:
Use as wedding lights to create a romantic yet sophisticated ambience at your event
Hang across a garden party mixed with soft pastels and vintage designs
Suspend across a small pergola or above a hammock tree and add whimsy to your wooded wonderland.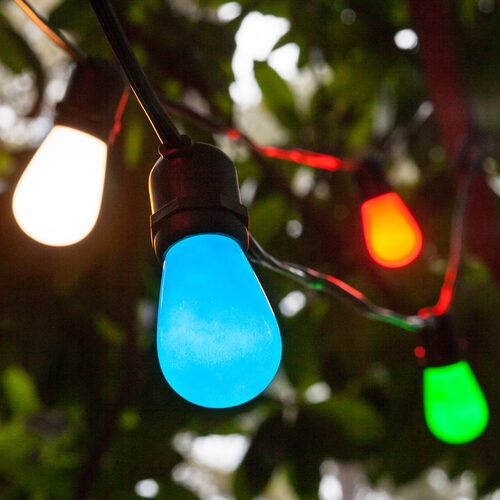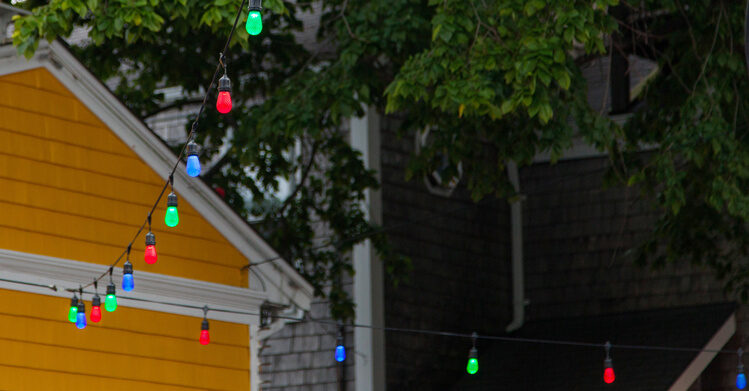 Frosted/Opaque Patio Lights: Smooth frosted or opaque white globe lights provide a clean and fresh patio lighting canvas, allowing design themes to shine while emitting a soft, diffused glow. Try these patio lights ideas for white and multicolor frosted/opaque bulbs:
Hang white opaque lights alone to allow patterned fabrics and elaborate designs to take center stage without the worry of colors clashing
Hang Multicolor opaque lights above a kids party to add a fun lighting element to their birthday
Pink and White opaque lights create perfect accent lighting at fairytale princess parties
Mix opaque bulbs to create themed holiday lighting during the Fourth Of July, Halloween and even Valentine's Day!
Transparent Patio Lights: Transparent bulbs are the perfect party light, allowing light to shine through a visible filament and adding depth to your designs.
Clear transparent bulbs work in any area and mix perfectly with almost all styles from boho to modern
Multicolor transparent bulbs are the essential party light, super bright and so fun
Sophisticated events require chic lighting, choose transparent bulbs for rooftop lounges, outdoor event spaces or modern industrial environments
Congratulations! Now that you know your patio lighting mistakes to avoid, you're ready to make your backyard bash the best lit one on the block! Your patio lights will be the envy of your friends! Let's go shop for lights!