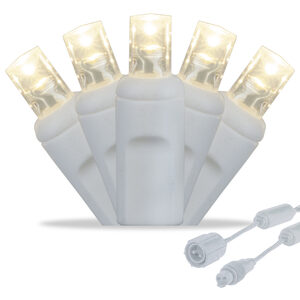 5mm Commercial LED String Lights, Warm White, White Wire
Commercial grade Warm White 5mm LED lights on white wire.
Energy efficient LED technology enables you to connect many more strings together, making decorating easy!
20 gauge wire and water tight connectors for a worry-free display.
Requires one power adaptor per run, sold separately. Single power adapter allows up to 60 sets to be connected end to end.
LED strings feature an average lifespan of 100,000 hours.
Patented one piece construction eliminates corrosion from moisture for longer life.
LED lights use up to 90% less energy, minimizing power needs and saving you money.
Reduce greenhouse gases by choosing environmentally friendly lighting that saves on power
LED lenses are built to withstand rough handling and remain looking great.
If one light goes out, the rest stay lit.
Tighter twist wire reduces tangling for a cleaner look in professional and decorative displays.
LED bulbs always remain cool to the touch, making them ideal for indoor / outdoor use.